Premium

DNS

SPEED UP YOUR WEBSITE TODAY!

Anycast with global coverage

Uptime guaranteed 99.999%

Update DNS zones with templates

Direct administration from client.ro

Verification and fixing errors

Acces for ALL your domains

DNSSEC for a maximum of 5 domains.

€ 0.90 monthly

PROMOTIONAL price for yearly payment

Choose Premium DNS
Exceptional performance,
guaranteed uptime of 99,999%.
Infrastructure with Anycast DNS network — a faster site, anywhere in the world.
Guaranteed without the error
"website not found".
You are guaranteed that the server where the DNS is hosted will no longer respond slowly!
Permanent access to a
secondary DNS.
It helps with power outages and resolves Internet routing issues.
Extra protection
for your website.
Ensuring and protecting many security issues that are not visible.
Easy to use and powerful for any site.
You have direct access from your customer account without having to go to another site.
You pay as you use, without a contract period.
You can add as many domains as you want at any time - you will only pay for them.
Premium DNS includes
99.999% guaranteed uptime
Domains managed (zones) unlimited
1.500 records per domain
Secures up to 5 domains with DNSSEC
No other additional costs
Global Anycast network fast and reliable.
Templates to create, save, and reuse DNS zone settings.
Secondary DNS with synchronization for unlimited domains.
Verification of errors and correct DNS zone validation.
Two big reasons why you should go for Premium DNS
A slow DNS response can cause the "website not found" error.
You have probably noticed at some point that it takes longer to access a website or you get the "site not found" error. This can happen when a DNS is slow to respond and can't determine what site content to give you, or if it takes longer it can give the "time out" error message.
Hackers can redirect your visitors to a fake site
A bigger problem is when a hacker can interfere with the "look up" process — this is a vulnerability for all DNS systems worldwide. A hacker can give your browser a different IP address, which will redirect your visitors to a fake website that looks just like your website. Once your website visitors land on that fake site, the hacker will be able to access any information provided by the customer, from usernames and passwords to credit card details.
What is
DNS

(Domain Name Server)

Each domain name is assigned a series of numbers known as an IP address — for example, the IP address for www.navtelecom.com is 91.216.8.72. This is the number your browser uses to locate a website.

When you type a domain name into your browser, DNS (Domain Name Server) searches a huge database to find the IP address you requested and then directs your browser to the correct website content.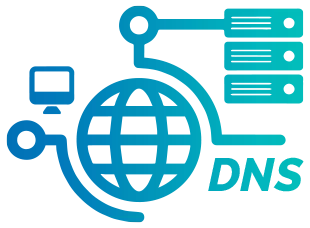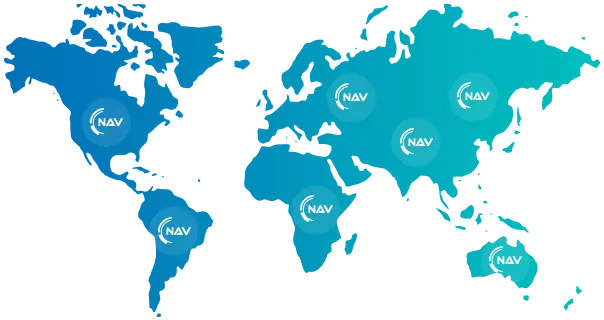 How can
Premium DNS

help my website?

Premium DNS makes it easier to secure and manage your DNS to improve performance, accessibility and security by placing your DNS information on NAV global network.

We share your DNS information across multiple servers around the world so that visitors to your site are connected to the closest server location for a fast response.

DNS Security Feature (DNSSEC) stops hackers by securing the "look up" process — verifying that the visitor actually reaches your site.
Let's solve the main DNS problems to improve security, reliability and performance.
Premium DNS makes it easy to solve common problems that prevent users from accessing your site, improving overall performance, availability and security.
Better security
Problem #1: Hackers are trying to hijack your site and steal customer data. When a customer enters the site address, the hacker interrupts the DNS lookup process and sends the user to a fake site that may look like your site.
Solution: Premium DNS (activated with DNSSEC) creates an unbreakable "chain of trust" between the visitor's browser and your server, verifying that the visitor actually reaches your website.
Greater reliability
Problem #2: The "Website not found" error causes you to lose customers and of course sales from your website. At best, your customers will think you're unprofessional and at worst, they might think your website doesn't exist.
Solution: Premium DNS ensures your site is always available using the global Anycast network, which provides multiple layers of redundancy. Your DNS records are distributed across servers in the US, Europe and Asia.
Faster performance
Problem #3: Visitors may experience latencies or even "time out" when trying to access your site. Customers living in remote areas may experience a delay in accessing your website or even receive a "website not found" error message.
Solution: Premium DNS infrastructure offers improved security and faster resolution than standard infrastructure. Information is distributed across DNS servers around the world and clients connect to the closest location.
We offer our customers an uptime
of 99.999% since 1997 to the present!
Over 10,000 customers with more than 15,000 domains trust our DNS infrastructure to ensure their web applications are always available.
Administrative tools
Unlimited domains (zones): Some providers limit the number of domains you can manage and charge extra to add more. With Premium DNS, you can manage DNS activity for all your domains — (excluding DNSSEC).
Templates: Common configuration templates can be created for easy DNS zone updates.
Multiple features: Multiple DNS zone imports, exports and updates.
Monitoring and support
Extended records limit: Up to 1.500 records available per domain with Premium DNS. No more worrying about DNS zone overloads or reaching a limit on the number of added domains.
Error checking: You don't have to be a DNS expert or technical engineer. We make it easy to identify problems with our error checking features.
Forward: DNS Forwarding for your website.
Guaranteed reliability
Management: Full control over record types: NS, MX, A, SRV, TXT, CNAME and lifetime (TTL).
Global AnyCast network: Our approach is redundant, global, covering the US, Europe and Asia helping to protect against DNS-targeted DDoS attacks.
DNSSEC: Up to 5 DNSSEC domains can be activated (additional surcharge).
Secondary DNS: When a site's application is critical, a secondary DNS server with synchronization is 100% necessary.
Your question, our answer
What is the difference between DNS and Premium DNS?
Premium DNS provides superior security and performance for your domain, while DNS hosting is a service included with web hosting servers that allows customers who own domains registered with other companies to manage their zone files through NAV.
For example, let's say you registered your domain with another company, but you want to host your content with NAV. We give you the ability to modify and update your DNS zones, without forcing you to transfer your domain. This type of DNS management allows you to be hands-on with your domain, even if we are not your registrar. If you want to use our Premium DNS services, however, you will need to register or transfer your domain to us.
Does it help me maintain a professional online presence?
Premium DNS ensures DNS stability and security for your domain name. We want your online site to be a success, which is why it's important to maintain a consistent online presence that provides the reliability your site visitors deserve.
The secondary DNS server provides a backup in case the primary DNS server for your domain name fails or stops working. If the primary DNS fails, the secondary DNS can take over so visitor access is not affected. This feature is perfect for websites that depend on visitor traffic.
Custom nameservers can even be created to enhance your online presence. Custom nameservers allow NS masking, so when users search for information about your website, they will find your nameservers instead of ours.
What is Premium DNS?
Premium DNS, also known as Managed DNS, is a robust DNS service that helps you improve the security, performance and reliability of your website by allowing you to control advanced features of your DNS settings. With this service, you can maintain full control over your site by managing changes and settings for your domains DNS zones.
Why Premium DNS is essential?
Premium DNS provides a more advanced level of support and superior security, reliability and performance by distributing your DNS information across multiple servers around the world so your website visitors are connected to the closest server location for a faster response.